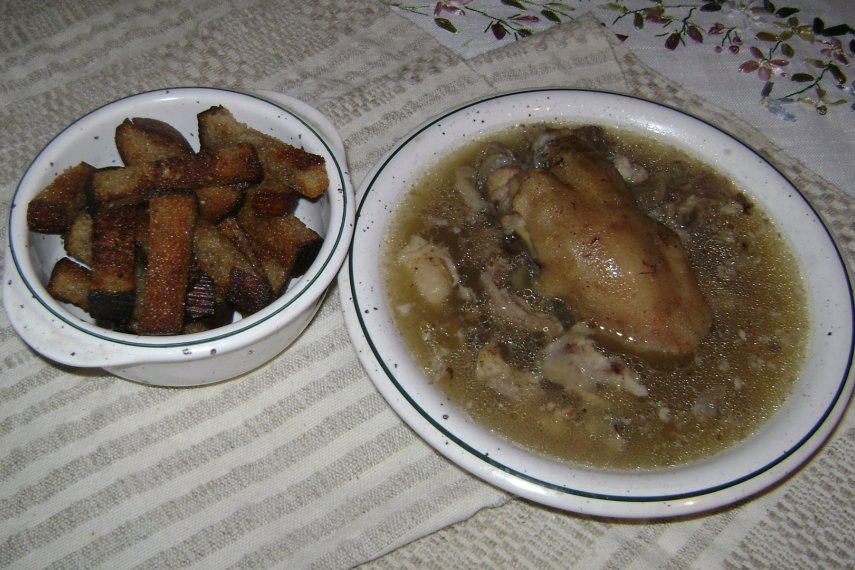 Composition (for three servings):
● brown bread brick (300 g),
● oil (30 g),
● pig's feet (3 pieces)
● pork knuckle
● garlic (4 cloves),
● bulb
● carrots (1 piece),
● salt.
Cooking
The legs and shank to soak several hours in cold water, then place in a saucepan and pour 2.5 liters of water. Add the onion (do not cut), salt and one carrot. Put on fire and when the contents boil, small fire simmer for 5-6 hours. After the time has elapsed, the carrots and onions to remove, and knuckle removed and divided into small pieces (bone to get it), the legs get it completely. In remaining liquid add grated on a fine grater garlic with a small amount of salt, mix. Put on a plate in the leg with rulk pulp and pour the liquid from the pan.
Bread cut into long slices, lay out on a hot (oiled) frying pan. Season with salt and fry (turning) until Golden brown.
Where to enjoy
The Agriturismo "Paradise Lost"
Oil Alexander Oil On Tatiana
+375 (23) 539-23-16
+375 (29) 687-71-92
+375 (29) 328-40-25
Gomel region, Zhitkovichi R-n, d. Samana pass. Krasnyy Bor