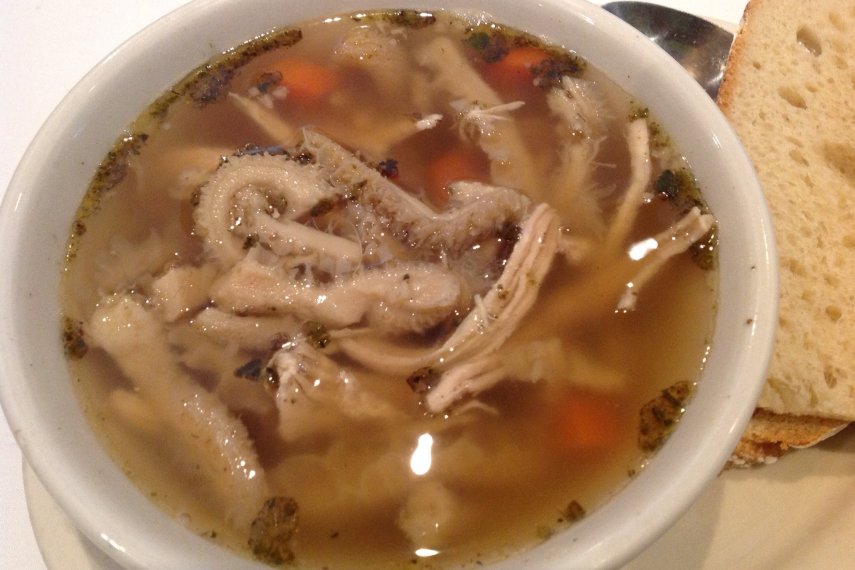 Composition:
● beef tripe,
● sour cream,
● onions,
● spices.
Cooking
The basis of the dish is fresh beef tripe specially prepared and cut in small strips. Equally important is easy smetana stew with onions and a composition of spices, in which the dish is brought to the desired state immediately before serving. It is worth noting that the famous Polish flak likely – simplified, diluted to soup, cheap karchana version of the old-Litvinsky meals.
Gentry served Litvinsky Flack necessarily in small clay sanochkah as expensive hot snacks.
The history of the recipe
The revival of this ancient recipe of the dish began with a historical document – the memoirs of a German traveler of the XVII century, which was lucky to get in as a honored guest in the former noble estate somewhere in the vastness of the Grand Duchy of Lithuania. And now as the most honorable of the dish, which is prepared exclusively for our dear guests, at the end of dinner on the table with great solemnity was filed just hot Litvinsky Flack.
The main feature that made flak in those days so expensive and is intended exclusively for the most special occasions is that they are prepared from fresh bovine rumen.
The cow at all times was a nurse and a peasant, a rich and noble family, providing daily farm milk, cream, butter, TERAGAM, raw materials for the manufacture of cheese. Accordingly embarked under the knife is such a useful animal only in exceptional cases. It did Litvinsky Flack such gotowanym rare, and hence very expensive.
Where to enjoy
The Agriturismo "Docors estate"
Andrey Zakharenko
+375 (44) 551-77-01
tourism@dukora.by
Minsk region, Pukhovichi distr., and.g. Of Dukora, ul. Shkolnaya, d. 15